What people are saying about
The Review Solution.
Our Partnership with the Better Business Bureau®
Your advertising dollars
could be going to waste.
When you spend time and money on advertising, one of your primary goals is to attract new customers. When your advertising is effective, potential customers will remember your name and consider using your services.
But where do these potential customers go next?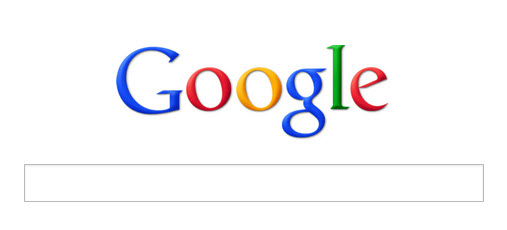 Are you aware of what they see after typing your business name into that bar? If not, take a look for yourself.
You're probably going to see your website, review sites such as Yelp and Google+, and your Facebook or Twitter.

The average consumer reads between 2 and 6 reviews before forming an opinion about a business. Your potential customers are no different. Even if they look at your website and social media, the content on those review sites could be the deciding factor. Do you have reviews? Are they positive? Are they recent?

Would you choose your business based on those reviews?
If you have difficulty saying yes to any of these questions, then your advertising dollars are doing you no good. Let The Review Solution put those advertising dollars to work. Never let reviews be the reason you lose another potential customer.
Why we're
The Review Solution.
With our mobile app and browser-based survey you can:
Collect reviews from your customers at the point of service
Collect reviews remotely from your customers via email
Tap into your database of satisfied but silent customers to gather reviews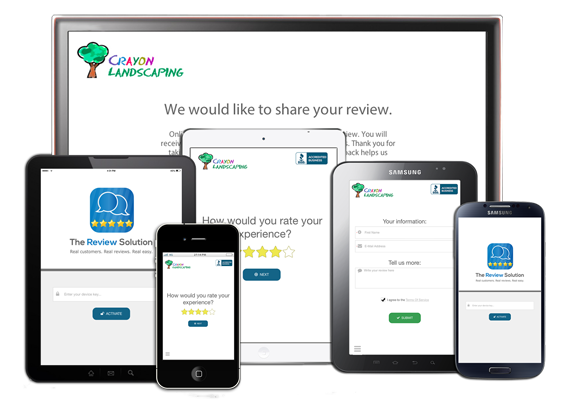 A negative review could
save your business.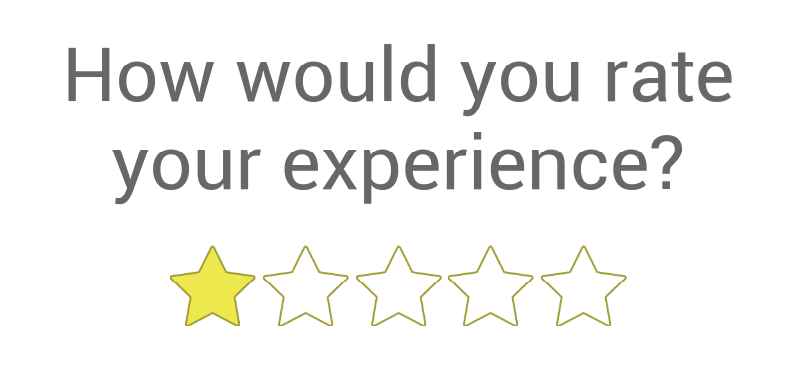 Before The Review Solution
When customers have negative experiences and feel compelled to voice their complaint, the easiest place for them to go is to an online review site such as Yelp or Google+.

What does this mean for your business?
You didn't have the opportunity to remedy the situation while it was happening, costing you the customer
You've lost potential customers who read the review
With no easy way to have the review taken down, the review will continue to cost you business
After The Review Solution
When customers are presented with The Review Solution at the point of service, they have the opportunity to voice a complaint privately instead of publicly.

What does this mean for your business?
You can save the relationship before the unhappy customer walks out the door
One customer's negative experience won't cost you potential business now or in the future
With The Review Solution, negative reviews only serve to help you, not hurt you
Employees

can
get reviewed, too.
How it works
Reviewers can select the name of the employee who helped them
Get notified whenever an employee is reviewed
Improve overall employee performance and build accountability
Downloadable reports specific to each employee
If members of your team have review site listings (common examples are doctors, dentists, and realtors), reviews can be posted online for both the business and for these individuals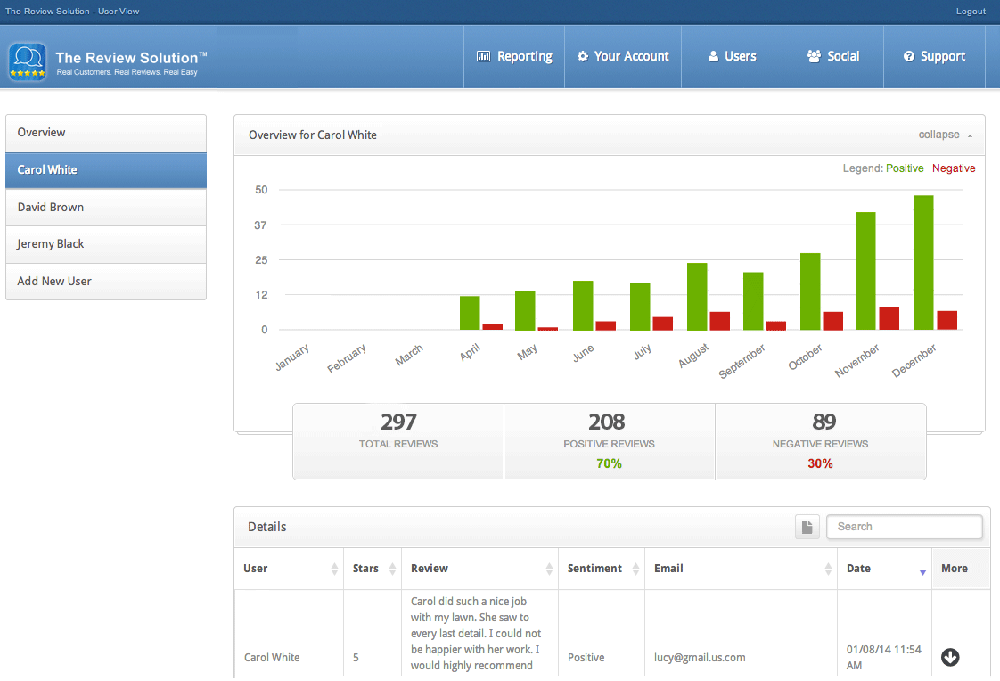 Features
Dedicated account manager
Facilitates the posting of reviews onto all major review sites as well as vertical-specific review sites
Reviews posted to Facebook and Twitter
100% of positive reviews posted to Review Star
Real-time notifications of submitted reviews via text message or email
Monitor employees' reviews
Gather reviews while offline
Comprehensive backend dashboard with review summary and feed
Extensive customization
Enterprise-level solutions available
Technicalities
Download the app from the Apple App Store or Google Play Store
The Review Solution is compatible with Apple and Android devices
Recommended devices: iPad 2 or later, iPad Mini, Samsung Note 8.0, Samsung Note 10.1, Samsung Galaxy Tab 2, Samsung Galaxy Tab 3, Google Nexus 7, Lenovo Yoga Tablet 8, Lenovo S6000, Apple iPhone 5 or later Google Nexus 5, Samsung Galaxy S4 Mini, Samsung Galaxy Note 3
The Review Solution is not compatible with: First Generation iPad, Asus Transformer Pad, LG G Pad 8.3, Windows 8, Kindle, Kindle Fire, Nook and other e-readers
Wireless Internet or cellular connection required to process collected reviews. Reviews collected while offline will process after device is reconnected
We're here
for you.
No learning curve!

No experience with technology is required to use The Review Solution.
Your dedicated account manager will:

Assist you through setup, implementation, and employee training
Craft a review site strategy that best fits your business's goals
Provide ongoing consultation and guidance
Send monthly progress reports and semi-annual before and present results

Live chat available during normal business hours
Training and knowledge tools available